Investment Checking
Maximize Your Financial Potential
Welcome to Investment Checking, your gateway to unlocking the power of your money! At Guadalupe Credit Union, we understand that a checking account can be more than just a place to store your funds. That's why we've created the Investment Checking account, designed to help you grow your wealth while enjoying the convenience of everyday banking.
Why Choose Investment Checking?
Seize Control of Your Finances: With our Investment Checking account, you have the flexibility to manage your money on your terms. Benefit from a VISA® debit card and unlimited check writing, allowing you to make purchases and payments with ease.
Grow Your Wealth: Unlike traditional checking accounts, our Investment Checking account earns dividends on your balance. Your money works for you, helping you achieve your financial goals faster.¹
Bank on Your Schedule: Take advantage of our Free Online and Mobile Banking services. Access your account, pay your bills through Bill Pay

2

, view transactions, and manage your finances conveniently from your computer or mobile device.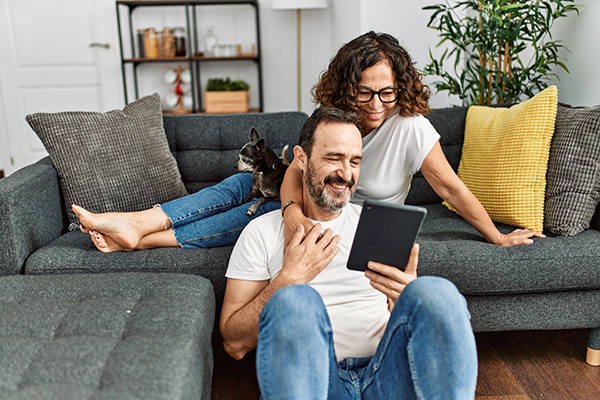 Open Your Investment Checking Account Today!
Don't miss out on the potential for financial growth and the member benefits of our Investment Checking account. Start maximizing your financial potential by becoming a member of Guadalupe Credit Union today. Opening your Investment Checking account is just a chat away.
Experience A Community-Centered Credit Union
By choosing Guadalupe Credit Union, you're not just opening an account; you're becoming part of a community-focused credit union. We are dedicated to financially empowering all of the communities we serve and call home. As a member, you'll have the opportunity to participate in our community initiatives, support local businesses, and contribute to the growth and prosperity of northern New Mexico. Chat with us today, and learn more about the benefits and features of our account and start your journey toward financial simplicity today.
Subject to membership eligibility.
¹
Minimum balance of 1,000.00 required to earn dividens & avoid low-balance fee of $10/mo.
2
Bill Pay: Online Banking account required. Free with any GCU checking account when you sign-up for E-statements. Must use Bill Pay service at least once every three months. (Otherwise $8/month)
Go to main navigation